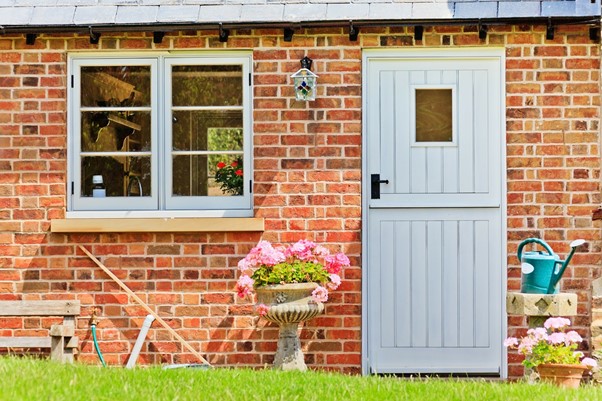 What's the best material for a front door?
Posted. 27 December 2020
Tags. Special,
We know that your front door plays a big part in enhancing the aesthetic of your dream home. Taking centre stage, your front door is what your guests see first as they approach your house – and more importantly, it's what you and your household are greeted by after a long day in the hustle and bustle of the outside world. 
At AGS Windows, we don't feel our customers should have to sacrifice style for function. Not only do we have an impressive range of designs, colours and finishes for you to choose from, we also ensure your front door is highly practical. You need your front door to be sturdy, secure and energy efficient, amongst other qualities – so when you're trying to decide which door is the perfect fit for you and your Devon home, there is a lot to consider. 
As your local experts, with decades of experience in the region installing stylish and robust front doors, we are here to help you pick the right solution for you. 
Our two most popular types of door are PVCu panel doors and composite doors. To make things easier for you, we have listed the pros and cons of each below. You can also find out more information about the two styles on our PVCu panel and composite door pages on our website.
What do you want from your front door?
Everyone's style and preference is different/ A good place to start is by thinking about your own individual requirements along with what's suitable for your home. Ask yourself these questions to help you get some inspiration. 
Do you live in an older property or a new build? 

Do you want to maintain the style of your existing front door or achieve something completely different? 

Are you looking to stamp your personality on your dream home or are you looking for a more traditional aesthetic? 

Do you live on a busy street and therefore noise reduction is important to you? 
Either way, the style you choose should complement your home and enhance your curb appeal. 
What is a PVCu panel door? 
PVCu stands for Unplasticised Polyvinyl Chloride, which is a type of plastic that is highly durable. Encasing the door's steel frame, our PVCu doors protect the inside of your home from the elements and will last for years after their installation with minimal maintenance. We offer an impressive variety of colours and wood finishes for you to choose from, so you won't have to compromise on looks. 
What are the advantages of PVCu? 
Secure – The rigid plastic our our PVCu panel doors are extremely strong without being too heavy. This means that they are near impossible to break into by an unwanted intruder. They also come with an inbuilt multi-point stainless steel locking mechanism. This allows you to relax and unwind in your home, knowing your loved ones are kept safe and secure all year round. 
Price – If you're not looking to break the bank, our PVCu panel doors are the most cost-effective option. Without having to sacrifice on quality, our PVCu doors are a great way to keep your home secure if you're working with a tighter budget. With a huge range of glazing and colour options to choose from, including decorative glass, it's hard to go wrong with PVCu and our doors are a customer favourite. 
Low maintenance – Our PVCu doors are highly durable and require little maintenance, unlike other materials like wood. PVCu doesn't require any varnishing, sanding or repainting and will maintain that 'new front door' feeling for years to come. Any excess dirt can be simply wiped away with a damp cloth. 
Insulation – PVCu panel doors will help to reduce the cost of your household bills with their multi-chamber profile and advanced glass technology that adds an extra layer of insulation. Not only are they highly energy efficient, they will reduce noise pollution and prevent cold air from getting in and the ambient temperatures of your home escaping. 
What are the disadvantages of PVCu? 
Aesthetic appeal – PVCu is not to everyone's taste. If you occupy a more traditional property and want to maintain its original character, then a wooden door may be a better choice. PVCu panel doors are the perfect solution for newbuilds and are a popular choice, though ultimately it is a question of taste and it's completely up to you what door you choose! 
Environmental impact – Although PVCu panel doors are highly energy efficient and great at reducing your household bills, because they're made of plastic-based materials they release harmful fumes into the atmosphere when destroyed. If the sustainability of your front door's entire lifecycle is important to you, this is something to bear in mind. However, at AGS we'll take your PVCu doors away and recycle them for free.
What is a composite door? 
Composite doors are made using a blend of different materials, including wood, steel, glass, foam and even PVCu. The varying materials are combined under high-pressure conditions in our state of the art factory and are designed to mimic the appearance of traditional wooden doors. With their classic finish, our composite doors are aesthetically pleasing without sacrificing on quality. Unlike wood, their natural properties render them highly durable and weather resistant, making them a more practical solution in the long-run. 
What are the disadvantages of composite doors? 
Cost – You'll need to dig deeper into your pockets for our composite doors, in comparison to our PVCu options, so it depends on what budget you're working with. 
What are the advantages of composite doors? 
The wow factor – Composite doors are the perfect solution if you're looking to enhance the aesthetic of your home. With their traditional finish that mimics the charm and character of wood, our composite doors are both stylish and practical. With a wide range of colours and designs to choose from, there is something for everyone. 
Secure – Composite doors are incredibly secure due to the combination of materials used to manufacture them. Our expert engineers custom-build all our composite doors and use a 100% CFC-free polyurethane foam core, creating a door that's structure is both thicker and sturdier than PVCu. 
Weather resistant – Unlike other materials like wood, composite doors are designed to endure even the toughest conditions. AGS's composite doors are created to be highly weather resistant, as we take that extra step by using a 100% CFC-free polyurethane foam core which doesn't warp over time, unlike timber. This means that your new composite door will last for years after their installation and function just as well. 
We hope that outlining the advantages and disadvantages of our two most popular door types have helped you better understand what material is best for you and your home. To take a look at our impressive range of designs and colours on offer, feel free to download our AGS brochure. 
You can also take the first steps in turning your creative vision into a reality by using our Design Your Solution tool. Alternatively, if you would prefer to chat to one of our friendly local advisors then get in touch today or visit your local showroom so we can start making your Devon home dreams a reality.