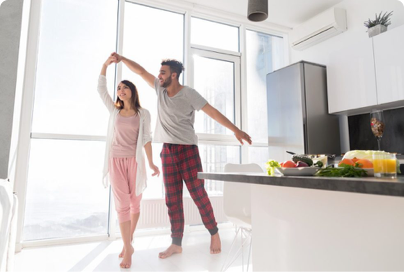 Finance Options

Flexible monthly payments

Interest free credit

 Buy now / pay later

No finance required
Making home improvements is an investment; you'll see the return with a higher house value, reduced heating bills, and even just the use you get out of the space. However, we know it's not always easy to shell out for your new windows, doors or conservatory outright, even if you are desperately in need of an upgrade. 
That's why we offer so many finance options that we hope will ease your mind. We want to give you the home improvements you've been dreaming of without having to break the bank to do it. Take the stress out of your new home upgrade; just contact us and we'll be able to find the right finance option that will work for you.
Choose from flexible monthly payments, interest-free credit and buy now, pay later options. Whichever you decide to go with, we'll work together to tailor a payment plan that is specific to your requirements, making sure we don't overstretch your budget and leave you in the lurch further down the line. 
If you're thinking about upgrading your old conservatory, installing double glazing or fitting a new composite door but the price is putting you off, then it's time to contact us! One of our friendly finance experts will be happy to talk you through any worries you have and find a solution that works for you. 
At AGS, our customers' happiness is the most important part of our job. If you have any issues or questions, no matter how big or small, we're here to support you. Contact us today or pop into our local Exeter showroom to see our products for yourself and chat to one of our friendly members of staff.