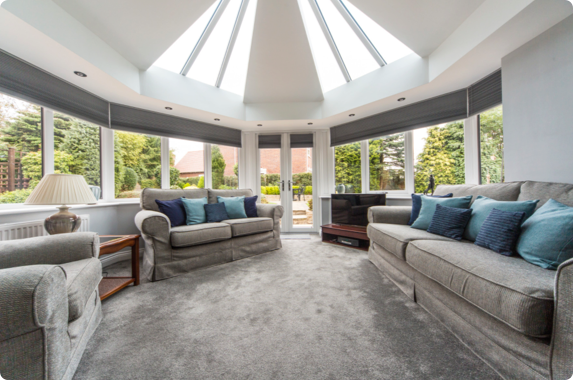 Can I put central heating in my conservatory?
Conservatories have become a staple part of homes up and down the United Kingdom, as homeowners wise up to their versatility and value-enhancing power. Want a place to host guests? Fit a conservatory. Want a bright, plant-filled home office? Fit a conservatory. Need a space you can use to do almost anything? Look no further than a beautifully-glazed, light-filled conservatory!
Unfortunately, Britain's ageing conservatories are notoriously chilly in winter. Even worse, because conservatories aren't usually built as an integral part of your home, they're often quite difficult to heat. 
As an antidote to this problem, you might consider fitting heating to your conservatory. However, this raises some other questions. This article is your quick guide to conservatory heating. We'll cover the different options on offer and the tradeoffs between them, as well as answering some other questions along the way!
Do you need planning permission to put central heating in a conservatory?
Generally, you do not require planning permission to carry out work that is purely internal to your property. There are exceptions for strict heritage areas, however. While you can sometimes require planning permission for the installation of a conservatory itself, fitting it with heating is unlikely to put you before a planning committee.
With that said, you do require something called "building regulation approval" if you're wiring your conservatory up to your home's existing central heating. Usually, however, this means next to no work for you, as nearly all reputable builders are able to self-certify their work as compliant via various national schemes. You'll receive certification upon completion of your conservatory.
AGS Windows is fully certified with the national certification scheme, Certass, so we'll make sure you're in line with any planning regulations. 
What's the best way to heat your conservatory?
Even the most well-insulated and modern conservatory will usually lose heat faster than an insulated cavity wall. It's simply the reality of the materials used!
There are a range of ways available to heat your conservatory. A few are relatively cheap initially, but become more expensive over time as running costs mount up. Others take a fairly hefty initial outlay but save you money in the long run. Let's run through them, one by one.
Is it worth putting central heating in your conservatory?
If your home is a new-build and already fitted with a conservatory, the space is probably already linked up to your property's central heating system. This saves you plenty of bother, but you may still wish to employ another form of heating for those times you only want to warm up the conservatory space. In early spring and autumn, it can seem like a waste to put the whole home's heating on just to warm one room!
Wiring in your new conservatory to your central heating can be expensive in the short term. However, because of the better economy over time, you save money year-on-year over other options. 
In the very long run, however, gas central heating will become obsolete. Ofgem and government climate scientists are beginning to sound the alarm about Britain's dependence on cheap gas. Energy use in homes accounts for 14% of the UK's carbon emissions, and in 2019, a government climate committee recommended that no new homes be connected to the gas grid after 2025. 
If you're environmentally-minded, then, you may want to heat your conservatory from mains electricity — which can be bought from a 100% renewable supplier!
Space heaters
Traditional space heaters don't have a reputation for efficiency, safety or ease of use. But might they be a good option for your conservatory?
The answer, generally, is no. While modern space heaters have become more efficient, safer and less fiddly, they're still an expensive and unwieldy way to heat a large space. Because of their mechanism, they usually look fairly plain, and usually can't be discreetly hidden behind furniture because of the risk of fire. Children especially will have to be watched around electric heaters.
Some space heaters, particularly those that make use of a fan, are more efficient than those without. Unfortunately, in solving one problem they create another — noise!
All in all, electric space heaters are best avoided except as a short term measure. 
Oil heaters
Oil heaters are a useful compromise candidate, offering a medium between initial expense and ongoing expense. They usually cost a little more than plain, element-based electric heaters in the first instance, but cost a little less to run over time. 
They're quieter, often look quite pleasing and quaint, and have been known to make pleasant bubbling noises as they naturally warm up and cool down! What's more, they're usually heavier and have a non-dangerous surface temperature, making them safer for children who might be likely to touch them or knock them over.
While they do come with ongoing costs, oil heaters can be a useful supplementary form of heating for those who don't wish to switch the heating on before or after a certain date!
Underfloor heating
Underfloor heating is a mark of good living the world over. It's popular with guests and wakes up your toes on a frosty winter's morning! 
It usually requires a fairly significant initial outlay to install, though once they're in place such systems are usually very reliable and make efficient use of energy. It's also invisible, meaning you won't need to rearrange furniture or alter your design to fit in a radiator. 
Depending on the precise design, underfloor heating can usually be controlled easily via a thermostat. 
Looking to explore your options
If this article has piqued your interest, feel free to give us a call. We're always happy to offer advice and information on our range of conservatories.